Hi everyone! Here I'm explaining some details of the snow white DIY fancy dress I showed you in the last post!
Enjoy the weekend :)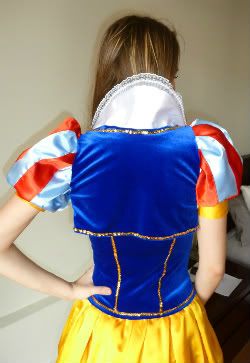 Instead of attaching the sleeves to the corset, I did a jacket. Use any bolero jacket you have as a model.
The collar is not too difficult. Just cut out two rounded pieces of
white satin and sew the outside rounder border with the lace edging in the middle. Remember that the edging should be upside down, so when you turn it around it will be right.
I stuck some fusing before sewing to keep it raised.
Puffed sleeves seem to be more difficult than how they actually are. You just need to make a regular sleeve pattern, but twice bigger. Then you'll have to gather the fabric on the armhole and the cuff, this is what provides that puffed effect. Actually, this sleeve is easier than a regular sleeve, as there's no need to sew so accurately.
About the accessories
I got a black apple necklace from Asos and painted it with a few layers of nail polish.
I covered a headband (I already had it) with the same red satin from the sleeves and sewed a bow. Of course you can buy a red headband
Finish this look attaching two red bows on a pair of white over knee socks (mine are also from Asos) ¡That's all!
Don't forget your make up!! Red lips and huge lashes are a must :)
_ NARS Sheer Glow foundation (Punjab)
_ MAC Matte Bronze Bronzing Powder (for contour)
_ MAC Fluidline Eyeliner (Dipdown)
_ Max Factor False Lash Effect Mascara
_ Clinique High Impact Lip Colour (Red-y to wear)