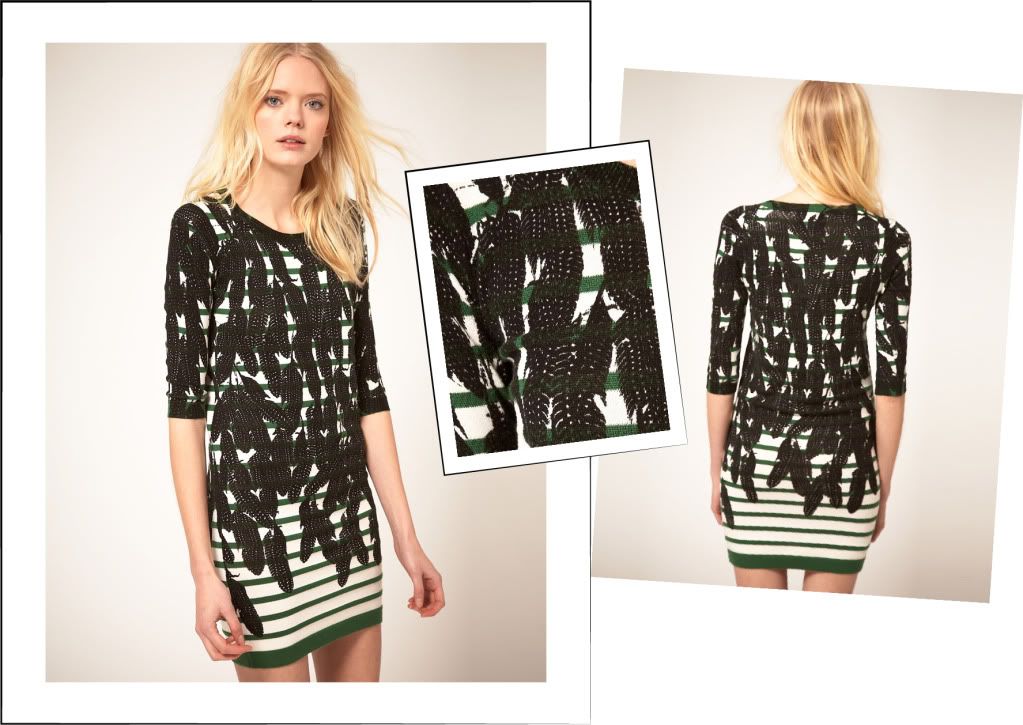 A few months ago I saw this wonderful dress by
Markus Lupfer
and it completely dazzled me. How could such a simple dress be so stunning? It is nothing but a printed long sailor t-shirt, so paying 200 euros for it was not an option. Although I bet the quality of the fabric is pretty good (100% merino wool) I'm not sure if it is a good investment.
I've been wanting to do a few DIY's inspired by Markus Lupfer for so long. I'll be doing another project inspired by Lupfer's sequined jumpers with my own design.

The original print is made of feathers, but I decided to go my own way with this and I made green leaves. It's your dress, It's your choice. You just need Textile paint, a thin brush and a dress or a t-shirt. Start putting some cardboard, paper or even a book inside your dress. Otherwise the paint will transfer to the back. The drawings I made are actually pretty geometrical and simple.
Making a stamp is another option for this DIY (probably faster). The girls from
A Beautiful Mess
did a lovely project last week stamping a pony silhouette on a dress. They explain perfectly how to do it, and their tutorial is really useful for a large amount of DIY's.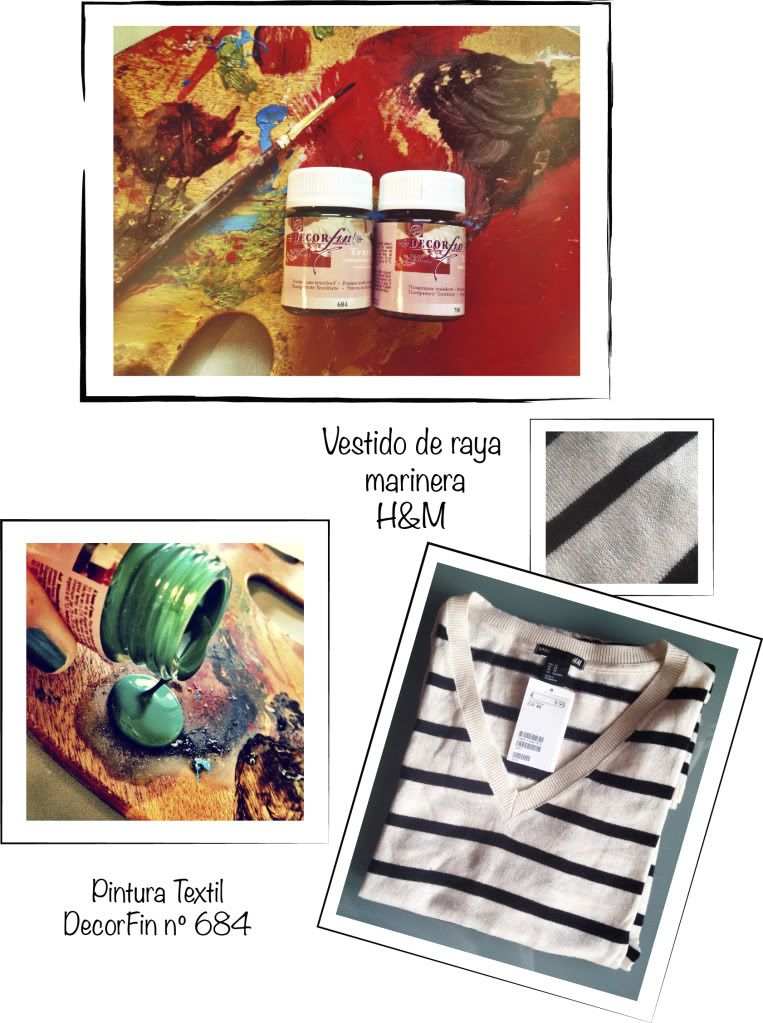 The rush is the secret ingredient of a disaster.
If your working with paint over clothes, there's no turning back. However, it is quite easy to hide mistakes in this project. Be careful with your hands: avoid at any time leaning on the palette or on your dress. Your hands might get stained and you'll end up making unwanted marks over the fabric. You need to handle the brush as far from the metal ferrule as possible, but keeping a good control over your strokes.


Don't skimp on paint. Specially if you're working over knitted cotton, your brush will get almost dry after drawing a short stroke. Don't make it go further, dip your brush again and keep on drawing. Lines should be accurate and defined.

Listen to good music. I've been painting for years and I noticed that the results I achieved, somehow, were influenced by the music I was listening to. Sometimes we are too concentrated to realize if there's something annoying out there, beyond our canvas. Your work is like a mirror that shows off your mood.

Follow the instructions form the manufacturer. This is so obvious but we all sometimes forget it. I used a water-based paint (although I do not recommend thinning it down, at least for this DIY) which needs fixing with the iron.

I hope you guys like this, I enjoyed so much doing it! I'll post a outfit with this dress soon. If you finally Dare to Do This Yourself (or any other DIY), please let me know! That would make me so happy :)

Thanks for reading!